We are here to help you with the liquidation of single items to entire estates for areas in New York.
Quabbin Valley Auction & Storage Facility is a family owned and operated business established in 2009.
Our auction business is primarily offering auction services through our Morrisonville, NY location.  Offering estate & business liquidations through our online auction platform.
Our Massachusetts location is focusing on expanding our storage facility at this time.  Upgrading our 137 unit facility to accomodate all your storage needs.  
Due to the ongoing uncertainty of the Covid 19 Pandemic we have made the following changes to our business hours and operations at our MA facility.  Our office is open Monday – Thursday every week, from 10am – 4pm.  Our office remains fully contactless at this time to ensure the safety and health of our family, please call the office at 978.673.8088 or Mackenzie at 978.495.0269 for assistance.  We are available by phone daily from 10am – 4pm to assist you!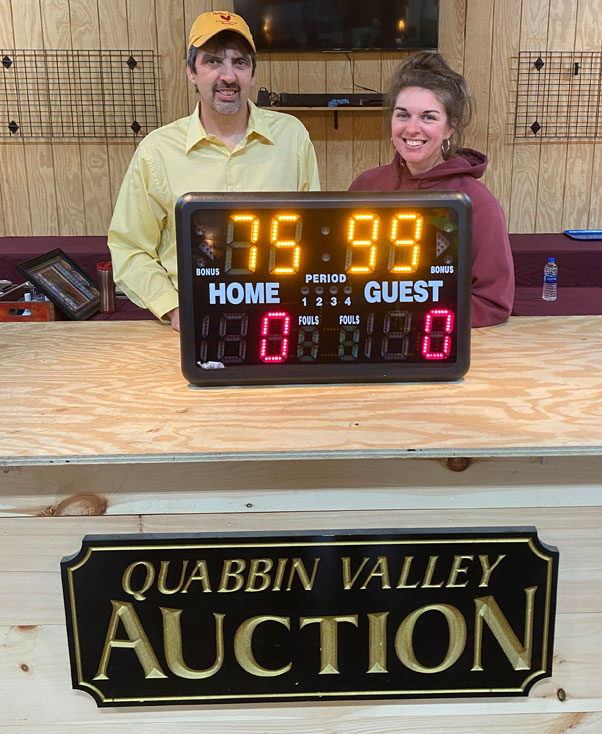 About Us
Quabbin Valley Auction is a family owned and operated business established in 2009. Wayne Whitmore opened Quabbin Valley Auction to provide a service to his hometown and surrounding areas. Wayne graduated from Southeastern School of Auctioneering in 2009. In 2011 his daughter, Mackenzie Blanchard, joined him in the family business. Starting out as the auction scribe Mackenzie quickly progressed to overseeing the entire business. Mackenzie graduated from Northeast School of Auctioneering in 2018. During the last decade of building the business they have specialized in liquidating estate and personal property. In 2019 they took the next step of expanding their business in Morrisonville, New York. After renovating and bringing life back to a past auction hall they are happy to now be operating in two states. The father daughter duo is conducting online auctions at their New York location primarily in 2022.